I use these in my home routinely.
Love the scent and freshness of these products
Clean & Shine Kit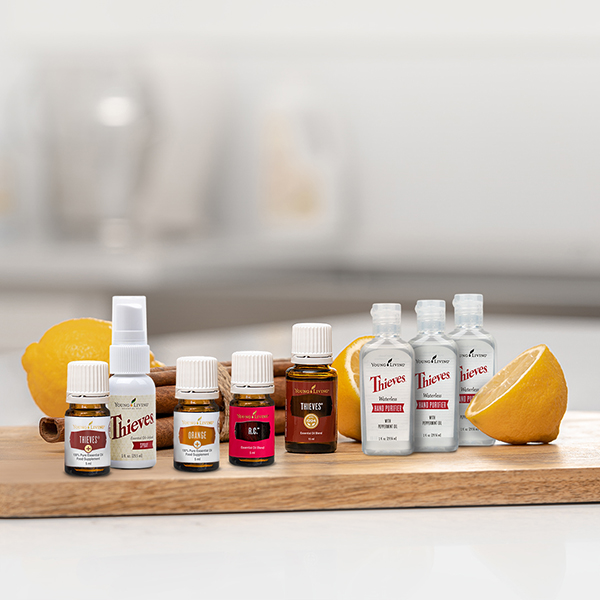 Keep your hands and home clean with our new Clean & Shine Kit, which includes purifiers for when you're on the move, and two useful essential oils. We also include two popular oils from our Plus range, for use in food.
The Kit includes not just any Hand Purifiers, but three bottles and a spray from our signature Thieves® range. This hard-working solution is great for the whole family. It's infused with soothing aloe vera gel, our Thieves blend and refreshing Peppermint essential oil. This purifier cleanses effectively and as a bonus, the lightweight formula leaves hands soft and smells divine.
Thieves essential oil is sweet and spicy to place on your pulse points.
Young Living R.C.® essential oil is a powerful blend of Spruce, Cypress and three types of Eucalyptus oils, ideal to apply to keep you on track.
Thieves+ is an indispensable part of your spice rack, adding distinct flavour to many dishes. Or add it to NingXia Red® for a spicy drink that tastes great.
Orange+ is a delightful and versatile food supplement oozing citrusy flavour.
Clean & Shine Kit includes: Thieves Waterless Hand Purifier pack of 3, each 29.5 ml; Thieves Spray 28 ml; Thieves+ 5 ml; Thieves 15 ml; Young Living R.C.® 5 ml; Orange+ 5 ml.
Holistic Wellness Kit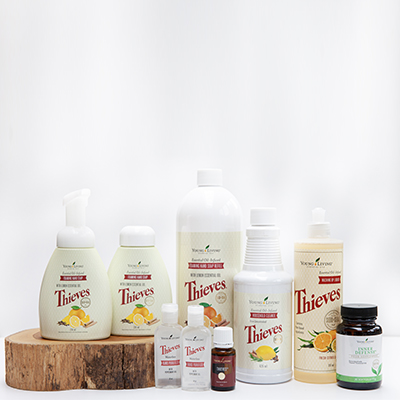 Enjoy our Holistic Wellness Kit, perfect for jump starting your natural wellness routine for optimum health, inside and out. Roll up your sleeves and refresh your home with our Washing Up Liquid, Household Cleaner and Hand Purifier, plus more! Natural and plant-based ingredients, without harsh chemicals for a refreshing scent, protecting and caring for the whole family.Includes
2 Thieves® Foaming Hand Soap (236 ml)
Pump (Single)
Thieves® Household Cleaner (426 ml)
Inner Defense (30 Softgels)
2 Thieves® Waterless Hand Purifier (29 ml)
Thieves® Foaming Hand Soap Refill (946 ml)
Thieves® Essential Oil (15 ml)
Thieves® Washing Up Liquid (355 ml)
Join me now and learn how you too could benefit from these great products,
I really do buy these regularly because I love the scent and also the benefits of not having harmful chemical in my home around me and my dog. I value our welbeing